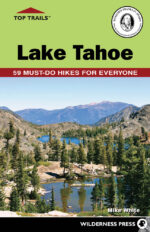 Top Trails: Lake Tahoe
$22.95
Discover classic destinations and lesser-known jewels of the Lake Tahoe area through 59 incomparable hikes.
Lake Tahoe, the jewel of the Sierra Nevada, holds magic for anyone wishing to explore its surroundings: the splendid backcountry on the north side; the sedate western side; the picturesque and popular areas on the south side, including Desolation Wilderness and D. L. Bliss and Emerald Bay state parks; and the relatively undeveloped eastern side.
Follow award-winning author Mike White across some of the most awe-inspiring terrain on Earth. Top Trails: Lake Tahoe describes 59 can't-miss routes for hikers, backpackers, and cyclists. From an easy 2-mile amble along lakeshore cliffs to an overnight trek on the crest of the Carson Range, you'll experience the best of this beautiful region in eastern California and western Nevada. Explore the famed Rubicon Trail, Donner Pass, highlights of the Tahoe Rim Trail and Pacific Crest Trail, and more.
Inside you'll find:
59 favorite routes for hikers, backpackers, and cyclists
Detailed maps and elevation profiles
Trailhead directions and "don't get lost" milestones
Key at-a-glance information, including trail length, difficulty, features, and facilities
Expert trail commentary
Whether you're looking for a scenic stroll to entertain the kids or a challenging full-day adventure, there's a path for you near Lake Tahoe. For readers ready to hit the trail, this is the guide to have, and for armchair travelers, it's 59 journeys into wonder.
Book includes 59 must-do hikes for everyone!
Additional information
| | |
| --- | --- |
| Dimensions | 5.5 × 8.5 in |
| Author(s) | Mike White |
| Format: | Paperback/Softback |
| Page Count: | 320 |
| Series | Top Trails |
| Publisher | Wilderness Press |
| Publication Date | September 12, 2023 |